Book Examines the Physical and Emotional Artifacts We Carry With Us in Times of Crisis
KINGSTON, Ont./ May 24, 2019 – A touching portrait of a childhood on Wolfe Island is the narrative cornerstone of a new memoir of the Fort McMurray Wildfire, released by The University of Alberta Press and author Therese Greenwood, and being launched in Kingston, Thursday, May 30, at Novel Idea.
After the April release of What You Take With You: Wildfire, Family and the Road Home, the eye-witness account of the largest wildfire in Canadian history and the 2016 evacuation of Fort McMurray, Alberta, climbed to the top of Amazon.ca's Natural Disasters Category. But the book is more than a disaster story: It is also about the physical and emotional artifacts we carry with us in times of crisis and the meaning they attain.
Greenwood's experience and skill as a journalist and a mystery writer engages and maintains suspense. Her portrayal of how people behave in an emergency and how a community comes together is uplifting. Her stories of what she saved from the fire will resonate with anyone who has lived through a crisis, and help make sense of a life-changing event that garnered interest throughout the world.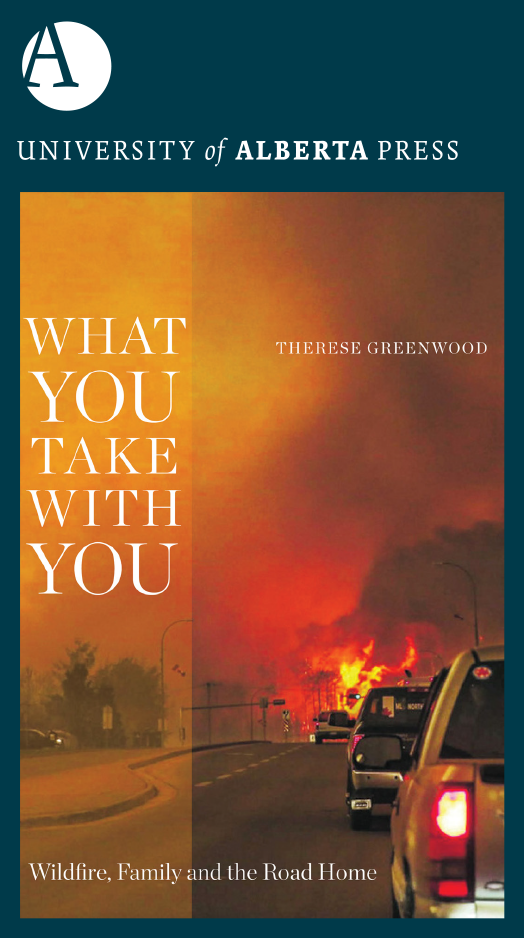 "My eyes filled with tears more than once while reading (Greenwood's) book," says Diane Schoemperlen, author of This Is Not My Life: A Memoir of Love, Prison, and Other Complications. "So terrifying and so tender, it looks clearly and deeply into how we can survive loss and how our treasured objects can be the priceless vessels that carry the stories of both our past and our future."
Says Miranda Hill, author of Sleeping Funny: "In What You Take With You, Therese Greenwood tells a very personal story of the Fort McMurray Wildfire. By considering the things that she lost in the blaze and the things that were saved, Greenwood takes the reader with her through her own evacuation, the road to safety, the grief that she experienced on losing her home, and the steps to her recovery. It is a beautiful book, sharply observed in the accounting of a disaster that affected the nation, gripping in the particulars of her own journey, and expansive in the questions it poses for us all: How is memory tied to the things we've collected, and what does it mean to make a home?"
Wayne Grady, the author of Up From Freedom, says Greenwood's "gripping account of the Fort McMurray wildfire evacuation … is told in the deceptively relaxed manner that often masks true tragedy. You'll read this book with a mounting sense of panic. You'll look around your own house, imagining flames licking at your doors. You have two minutes: what would you save?"
Greenwood said she is excited for the Kingston launch of her book Kingston — and not just because it is a homecoming. "Like so many of the 80,000 people who evacuated Fort McMurray on May 3, 2016, my husband and I had a long and frightening drive on a jam-packed highway to safety," she said. "So many people from Kingston and Wolfe Island reached out to us that night and in the weeks afterwards to offer us support. I'm looking forward to thanking each and every one.
Novel Idea is located at 156 Princess Street in downtown Kingston. The 7 p.m. launch celebration will include a presentation, book sales and signings.
ABOUT THE UNIVERSITY OF ALBERTA PRESS
The University of Alberta Press (USP) is a contemporary, award-winning publisher of scholarly and creative books distinguished by their editorial care, exceptional design, and global reach. UAP contributes substantively to the University of Alberta's mission, its national and international reputation, and the impact of its research and teaching by means of a diverse and far-ranging scholarly publishing program that is recognized annually with a host of awards for excellence in both scholarship and publishing.
ABOUT THERESE GREENWOOD
Greenwood's short fiction has appeared across Canada and in the U.S. in such publications as the Crime Writers of Canada's Over The Edge anthology and Ellery Queen Mystery Magazine. She has twice been short-listed for the Arthur Ellis Award, Canada's top mystery writing prize, and has co-edited two short crime fiction anthologies. Earlier this month, Greenwood was named the winner of a 2019 Spur Award from the Western Writers of America for her crossover mystery story about a B-movie cowboy at the Calgary Stampede. She and her husband live in Fort McMurray, Alberta.
For more information about books and events, visit Greenwood online at www.therese.ca or on Facebook. To arrange a media interview, email media@webpaving.com or telephone 587-723-1274.
HI-RES MEDIA DOWNLOADS
The following media are available for use by reviewers: