Calgary-based Coffin Hop Press has just released the short story collection Kill As You Go from two-time Arthur Ellis Award nominee Therese Greenwood.
Called "a master storyteller" and "a pure Canadian voice" for her short crime fiction, Greenwood is publishing for the first time since losing her family home in the Fort McMurray wildfire of 2016.
"It was interesting to look back at the stories I wrote before the wildfire and compare them to my writing after," said Greenwood. "It inspired me to explore the disruption that a natural disaster of this type brings."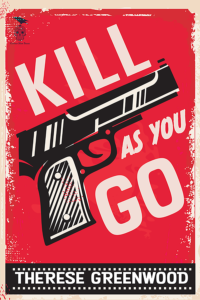 In her story "Cry Havoc," set in Fort McMurray on the morning of May 3, 2016, the day of that city's mass evacuation in the face of an out-of-control wildfire, Greenwood addresses an ordinary day interrupted by cataclysmic events.
"It's a twist on an idea I've been exploring for some time, about ordinary people making split-second decisions with no do-overs," said Greenwood. "In my stories, people are confronted with the unexpected and have to rise to the occasion — or not."
"Solid, sharp, tight, entertaining story telling."
— Peter Sellers, Derrick Murdoch award-winning author of This One's Trouble.
The 14 stories in Kill As You Go, the latest offering from Calgary publisher Coffin Hop Press, present an intimate portrait of small-town Canada. Setting is destiny for the characters who amble through Greenwood's fiction, whether they are Prohibition bootleggers in a Canadian border town, a B-movie cowboy at the Calgary Stampede, Catholic nuns on a begging tour in 18th century Ontario, or a Fort McMurray bylaw officer with a barking dog complaint on the morning of May 3, 2016.
Greenwood grew up on Wolfe Island, Ontario, the largest of the Thousand Islands, and that region also forms the backdrop for much of her work. Her short fiction has appeared across Canada and in the U.S. in such publications as the Crime Writers of Canada's Over The Edge anthology and Ellery Queen Mystery Magazine. She has twice been short-listed for the Arthur Ellis Award, Canada's top mystery writing prize, and has co-edited two short crime fiction anthologies.
Kill As You Go is available now on Amazon in paperback and for Kindle readers.
ABOUT COFFIN HOP PRESS
Calgary-based independent publisher Coffin Hop Press is committed to publishing the best Canadian genre fiction in print and e-book formats. With a commitment to good writing, a savvy grasp of online media, and a feisty approach to championing writers, Coffin Hop is taking the western Canadian literary landscape by storm with an innovative long-range slate of upcoming publications. Visit www.coffinhop.com for more information.
HI-RES MEDIA DOWNLOADS
The following media are available for use by reviewers: