"My eyes filled with tears more than once while reading this book. So terrifying and so tender, it looks clearly and deeply into how we can survive loss and how our treasured objects can be the priceless vessels that carry the stories of both our past and our future." — Diane Schoemperlen, author of This Is Not My Life: A Memoir of Love, Prison, and Other Complications
Four years after Therese Greenwood and her husband moved to Fort McMurray, Alberta, their new community was shattered by the largest wildfire in Canadian history. As the flames approached, they had only minutes to pack, narrowly escaping a fire that would rage for weeks, burn more than 85,000 hectares and force 80,000 people to flee.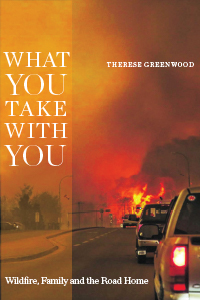 What You Take With You: Wildfire, Family and the Road Home is an eye-witness account of the wildfire, the evacuation of an entire city, and what insurance companies call a "total loss" event. It's also about the physical and emotional artifacts we carry with us in times of crisis and the meaning they attain, bringing past and present together to reintegrate our sense of self. It is also a rumination on marriage and the shared commitment to face what the future brings.
The books was a Finalist in the Trade Non-fiction category for the 2020 Alberta Book Publishing Awards, held by The Book Publishers Association of Alberta (BPAA).
Buy
What You Take With You: Wildfire, Family and the Road Home is available on Amazon in paperback and Kindle editions and available at Indigo in paperback and Kobo editions.
Listen
Host Jim Brown interviews Therese about her wildfire memoir on CBC Calgary's Homestretch radio program. [August 2019]
Watch
Therese is interviewed by Global TV Kingston about the book What You Take With You. [May 2019]
More Praise for What You Take With You
"Therese Greenwood's gripping account of the Fort McMurray wildfire evacuation, the largest and most devastating in Canadian history, is told in the deceptively relaxed manner that often masks true tragedy. You'll read this book with a mounting sense of panic. You'll look around your own house, imagining flames licking at your doors. You have two minutes: what would you save?"
— Wayne Grady, author of Up From Freedom
"In What You Take With You, Therese Greenwood tells a very personal story of the Fort McMurray Wildfire. By considering the things that she lost in the blaze and the things that were saved, Greenwood takes the reader with her through her own evacuation, the road to safety, the grief that she experienced on losing her home, and the steps to her recovery. It is a beautiful book, sharply observed in the accounting of a disaster that affected the nation, gripping in the particulars of her own journey, and expansive in the questions it poses for us all: How is memory tied to the things we've collected, and what does it mean to make a home?"
— Miranda Hill, author of Sleeping Funny