Collected in Kill As You Go for the first time are 14 of Therese Greenwood's best stories, originally found in the pages of Ellery Queen Mystery Magazine, the Sun Media Summer Mystery Festival, and numerous anthologies.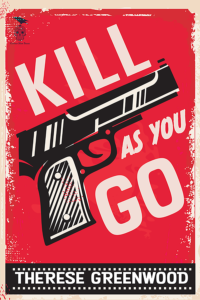 Published by Coffin Hop Press, these are tales of Prohibition-era crime, small-town murder, and family betrayal. This is a Canada populated by backwoods kingpins, delusional dreamers, quirky neighbours, devilish delinquents, and unlikely villains. In lakeside villages, prairie farm communities, and oil-rich boomtowns of the Great White North, these stories echo through time from the 1800s to the new millennia, with a distinct Canadian flavour and delicate touches of darkness that hearken back to the great pulp writers.
These are also the kinds of stories that also made Therese a three-time finalist for the Crime Writers of Canada's Arthur Ellis Award for best short story and the winner of the esteemed Bony Pete Award at the Bloody Words Festival.
The story "Buck's Last Ride" in Kill As You Go was named Best Short Fiction in the 2019 Western Writers of America Spur Awards.
Buy
Kill as You Go is available on Amazon in paperback and Kindle editions.
Praise for Kill As You Go
"Solid, sharp, tight, entertaining story telling."
— Peter Sellers, Derrick Murdoch award-winning author of This One's Trouble.
"Therese Greenwood's wonderfully crafted stories pull you into small towns where richly drawn characters in search of redemption, or deserving of comeuppance, grapple with big problems. They stay with you long after the tale is told, the hallmark of a master storyteller."
— Rick Mofina, USA Today bestselling author.
"Short-form crime fiction is undergoing a renaissance, and Therese Greenwood is becoming one of its masters. Eschewing the usual urban stereotypes, she writes beautifully wrought tales of our small cities and borderlands — and what goes on there. She does so in a pure Canadian voice."
— George Fetherling, author of The Carpenter from Montreal and other novels.